This Speyside distillery is relatively new as it started its production in 1975. It is one of the unknown ones that mainly focus on supplying quantity to the whisky industry…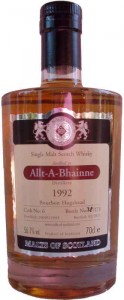 Nose : Pretty fruity notes firstly pass through (apricot yogurt). There is also some drier resources (malt, spices). We finally have pencil lead scents. It remains quite simple as a whole.
Mouth : It is quite powerful on malt and chocolate. We keep the fruit touch but with a lack of creaminess (lemony apricot). We strongly feel the alcohol. It needs some water, even if it isn't enough to remove this aggressive impression. The flavor palette doesn't really change.
Finish : Pretty good even if the bitterness is emphasized by spices. The aftertaste is, however, very flat.