Signatory Vintage acquired a lot of Ardbeg casks from 1967, matured between 28 and 30 years. This version comes from a dark oloroso sherry cask and showed itself as melted, to say the least. A rare chance to taste an Ardbeg from the 60's…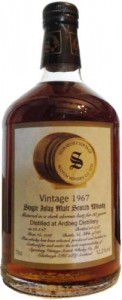 Nose : It looks quite dense (aromatic) even if it doesn't jump at us either (light alcohol). Some hazelnuts, milky caramel, red fruits syrup, blackberries, a bit of burnt wood (nice smoke) then comes chocolate. Each comes after the other with fluidity. It ain't cloying at all, especially since eucalyptus, peppered mint, lemon, cooked plum and leather come in the mix. If the nose doesn't explode, the nose is present enough to hold its ground and the melt is very well made.
The opening makes it drift towards fruity crème brûlée and walnut vinegar. There is also a bit of (animal) leather and green olive. It's hot !!!
Mouth : The texture is supple but not very grteasy with chocolate, light smoke, vegetal notes (eucalyptus) and a bit of suggar. There is also black currants and blackberries, a dash of olive that makes it charming. There is again some light wood that takes over. it lacks corpulence in the entry and maybe a bit of craziness (it is very mastered and melted).
Finish : We arrive on blackberry and violet candy still with elegant wood, this hint of smoke. It lacks length (a bit) but it's well done. The aftertaste is split between blackberries, wood fire and ashes (with a bitter touch).