One of the new distilleries appeared these last years lays in the Lowlands. Owned by Wemyss, it won't legally produce Singlemalt until 2018. Until then, let's see what it's got in the distillate…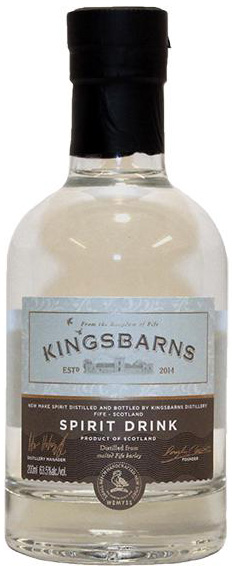 Nose : A new make is always a particular experiment. Without real surprise, pears are at the front of the scene. We're really on juicy fruit more than on Williams pear alcohol. We find a bit of cut grass, Colza oil and at times nectarines appear. The alcohol isn't too invading and we have floral notes (pansies, primrose) but set with earth and red beet (soft). The opening brings a bit of white bread. Water reinforces the earthy notes and puts forward green beens notes.
Mouth : The mouth is warm and the profile really seems funnel-shaped. We have more flowers than at nose (sugary white flowers, violet). Then it's the fruits turn. Sure the pear is still here (but more in brandy now) with a bit of plum. However, as is, they don't explode in mouth. Water emphasizes the flowers to an extreme limit (we're nearly on soap) with a few citrus fruits flashes (clementine). We then get cinnamon and star anise.
Finish : It's rather short with a little soapy note, carnation, grass, pear and lemon. The aftertaste stands limited to flowers and lemon. With water, the finish is more broad, less rough, still with floral and vegetal notes but also with spices and earth (beet comeback).