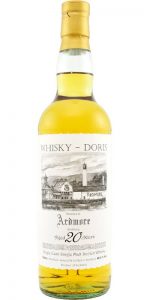 Nose : At first, the nose is very, very discrete. We search for aromas, without really finding them. We still perceive a few apple and vanilla notes, sustained by a hint of smoke in the back. It then quite frankly evolves on citrus fruits and lemon. After a good 5 minutes, it finally begins to open up. It becomes more perfumed, but still quite discrete. With time, the scents get clearer and clearer with a fruity prominence.
Mouth : Opposite to the nose, the first note is one of smoke, vegetal peat, farm, frank but quite discrete and light. The fruits then arrive, upholstering the mouth with a delicate sweetness (honey), perfectly blending with the peat. A pretty mix, very well done, perfectly balanced, sober.
Finish : long and very pleasant on this apple and vanilla perfumed smoked. The citrus fruits predominate and remain after 10 minutes.