The « 46% series » range represents all the reduced whiskys made in Malts of Scotland. At 50€, it is a small price, for a distillery which popularity is on the rise…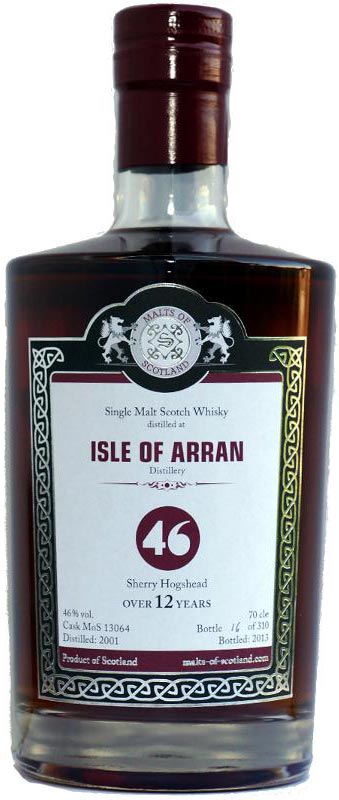 Nose : We start on honey (a bit floral) before the sherry shows its power. Some cherry clafoutis and dates each get their part of the pie. Dry apricots and raisins (just as dry) follow. It's pretty consistent for 46%.
The opening brings financier notes, with this very present buttery aspect (lingering on chocolate milk). A pretty nose, not complicated and immediate. It smells pleasure whisky, dessert whisky. Finally, dead leaves and green tea appear, giving a more vegetal twist.
Mouth : We already lose some of the qualities of the nose. We feel a bit the reduction and the whole loses its sweetness. Raisins, chocolate milk alongside orange jam to start. Then we go on a certain vegetal bitterness, quite herbaceous (maybe not « Littlemill-like » either) with some spices (amongst which black pepper). It remains pleasant but it lacks generosity.
Finish : Spicy and chocolaty, it is resilient. The aftertaste is marked by spices with a hint of Morello cherries. It is already rougher than what the attack promised us.