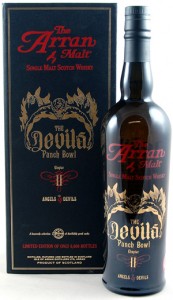 Nose : Alcoholic, dry and malty… Seems like it needs to open for a few minutes. Fresh mint, lemon, meringue. A dash of orange blossom. It is pretty pleasant even if the alcohol is a bit too present. Cashew nuts, spices, yellow fruits, dry fruits, aromatic herbs. A rich and pretty interesting profile. The citrus fruits and spices notes get stronger with the opening, letting us perceive a few tobacco and dark chocolate scents. The sherry and bourbon influences are undeniable. There ain't one that takes the upper hand.
Mouth : Pretty soft, on ripe fruit, vanilla, bitter dark chocolate. Some pepper notes appear. It is pretty complex. Ginger, cinnamon and a hint of smoke. It is fiendishly well conceived by Arran.
Finish : A bit alcoholic, on spices, mint and chocolate. Persistent and fresh. In the end, it ain't unpleasant.