The world of whisky is fascinating. The persons you meet are incredible : for their culture, for their passion, but also for their generosity. Thanks to a nice meeting, we had the chance to taste this exceptional whisky, bottled to celebrate David Sewart's 50th year in the business. Damien Anglada, Brand Ambassador of The Balvenie in France, honored us by sharing with us this unique malt, both for its rarity, for its age and for its price. It has been several weeks since we've had a sample in stock, but it is always hard to find THE perfect moment to try it out. Tonight, we dared and we helped ourselves with two centiliters of this precious beverage, fully measuring the privilege that was given to us. Once again, thank you Damien.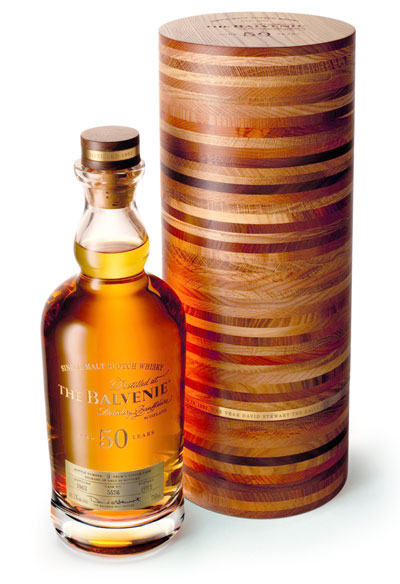 Nez : we've got green wood, then arrives exoticism (green mango, persimmon). We also smell notes of coconut milk which will help with the development  of a rather homogeneous ensemble, silky, very well-integrated. It's ultra sweet, smooth, with yet precious wood, without astringency. Some discreet spices allow to get a balance while the kiwi, the chocolat and the malt add sweets. The milk-side then disappear  in favor of the honey. Paprika, green tomatoes and oranges follow on from the exoticism.
It's rather evolutive but light with fine of carnation and sugary vegetation. There are pinches of lavander softener, acidulous red berries (cooked raspberry), but also frangipane. Then there is blackcurrant bud, dried apricot, almond. The exoticism is more set back with fresh notes (mint). We have a very well-costructed nose, very rich and subtle. It lacks energy every so often but it's beautiful.
Bouche : it's a little more austere with, all the same, a patent exoticism (persimmon, pineapple). Flavors of blackcurrant, wood, honey and eventually quite a lot of white flowers come in the front of the mouth. There is a lack of explosion, of prehension although flavors are enjoyable. The second part of the mouth draws closer to citrus fruits, apricots and floral notes (jasmine, rose) then to malt and a cinnamon-wood mix. It's fresh and the fruitiness is nice but some notes a little soapy/softener appear. The mouth then becomes ethereal as if we had sprayed alcohol on our palate. A very pleasant mouth, superbly balanced but that lacks of thickness every now and then.
Finale : decent with a jasmine-orange mix that goes on with the acidulous red berries. The alcohol fall is a little abrupt. The aftertaste is on the blackcurrant bud, the mashed rispberry and the jasmine.