With Elements of Islay, Speciality Drinks decided to put a good dose of science in its whisky, with very laboratory flasks and names inspired by the periodic table. Today, let's try out the Lp4, fourth Laphroaig batch from this series, matured in a sherry cask and bottled in 2013.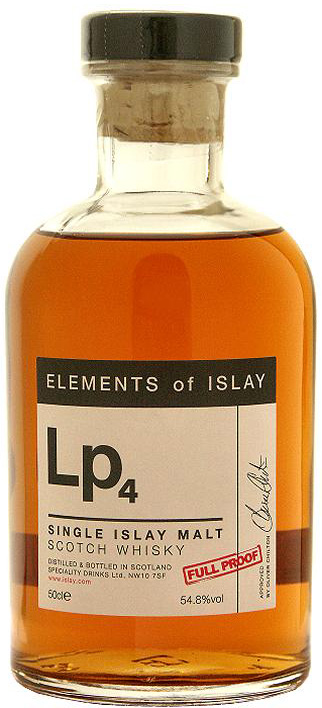 Nose : We are on Laphroaig lands, no doubt about it ! It is very medicinal (camphor) and maritime (oysters, salt). The peat takes both from the land and from the see. Then quickly come smoked meat and cherry brandy alongside a beautiful woodiness. A bit more airing brings rubber and spices (notable nutmeg). A bit of varnish and ashes complete this nice picture. A light sourness gives peps to the whole. A drop of water brings out an even sweeter and fruitier aspect (mango, banana, pear).

Mouth : Well here I say Yes ! We are on an astonishingly fruity profile on the attack, with salt and spices right behind. The alcohol is just perfectly integrated and perfectly serves the flavors. The peat, still medicinal, shows a very nice freshness. The structure in mouth is very thick and allows the different sides of this whisky, both terrestrial and maritime, to fully express themselves. A light dilution only makes it easier to drink (if needed).
Finish : Of very good length, it combines peat, salt and sourness, without forgetting some fruits (pear, lemon) which have the finest impact.